I am a maker of ceramics and mosaics living and working in Kent. My love of clay has thrived over 3 decades and I still find the process of making exhilarating and rewarding. Although more recent, my immersion in mosaic is no less absorbing. I hope you enjoy looking at my work.
Graduating from Camberwell School of Art in 1983 with a BA(Hons) in 3D Design specialising in Ceramics, I was awarded a prestigious Crafts Council setting-up grant and bursary to establish my first studio. My work was also purchased by South East Arts for their permanent collection at Brighton and Hove museum. Over the intervening years, 2 children, ups and downs and general life experiences, I continue to make and sell my ceramics and have also developed a passion for creating mosaics.
I work in three different mediums.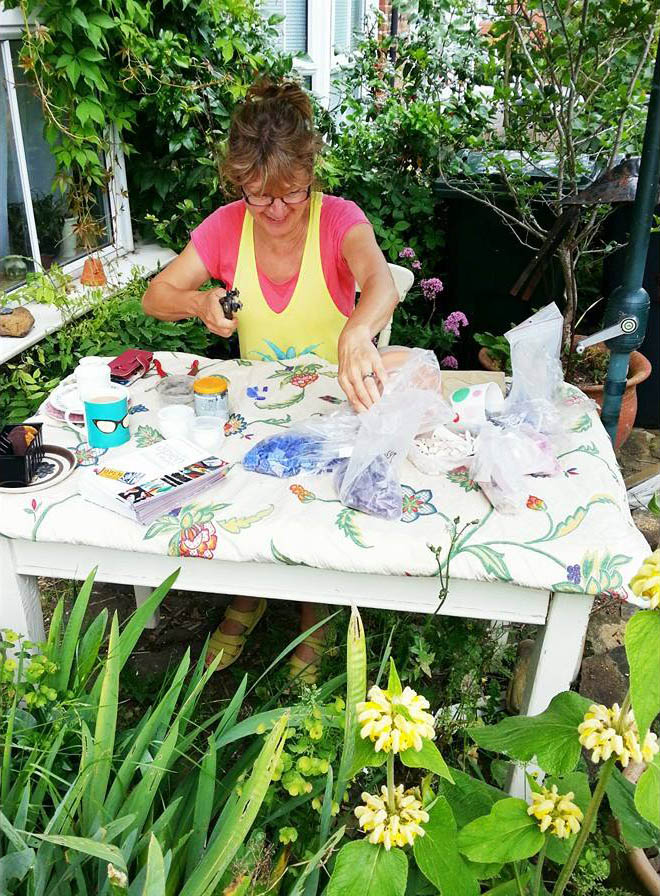 My most recent ceramic pieces (begun in 2015) are high-fired vessels in Stoneware and Porcelain and draw upon geology, organic forms and the natural world. I like to make my own glazes and am currently in love with turquoise.
The Earthenware work (made since my Camberwell days) is colourful and decorative. Mainly tableware featuring vibrantly painted surface decoration of faces, animals and foliage, I like to create the feeling of spontaneity in my brushwork, giving myself the freedom to encompass the space within the piece in a fluid, lyrical way.
Finally, when I am not making ceramics I am smashing them up! My mosaics are made from a variety of materials, the traditional glass smalti and vitreous glass, but also ceramic pieces (some of which I glaze and fire especially) and reclaimed china. I like to incorporate a bird within my larger narrative pieces as their many forms of symbolism always serve well as a storytelling device.